SALMON OIL
Stay healthy on a busy schedule?
| | | | | | |
| --- | --- | --- | --- | --- | --- |
|   |   |   |   |   |   |
| 2 HOURS FROM CATCH TO PRODUCTION | OMEGA 3 DHA EPA NATURALLY | FRESHNESS GUARANTEED | SINGLE INGREDIENT PRODUCT | ARCTIC SALMON | NO GMO OR ADDITIVES |
Heart, Brain and Beauty
A work life balance is not easy to manage. To keep up with the pace, our health is our most important asset. That is why Atlantic Delights is making it easier to be proactive in supplementing your daily diet with essential Omega fatty acids that our bodies need.
Omega 3, 6 & 9 keeps your heart strong and your mind sharp facing life's challenges upstream, just like salmon. Natural Omega 3 keeps your skin soft, and your eyes sparkling, sharp and fluid.
Our products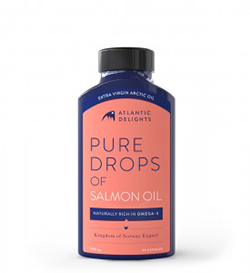 Pure Drops of Salmon Oil
90 capsules
Pure Drops of Salmon oil are made from premium salmon from arctic waters in Norway. Our oils are cold pressed less than 2 hours of catch for Extra Virgin Salmon Oil quality, to preserve freshness. Stay healthy with our convenient capsule drops, even on a busy schedule.
Taiwan Exclusive Distributor:
Asia Pet Business International Co. Ltd.
6F.,No.5-8,Ln.690,Sec.4,Henan Rd.,Nantun Dist., Taichung City 408, Taiwan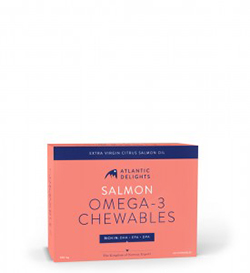 Salmon Omega-3 (Citrus)
60 chewables
Salmon Omega-3 Chewables are soft and chewable with a refreshing citrus taste. Made from cold pressed from Norwegian Salmon for Extra Virgin Quality. Enjoyed by both children and adults. Easy to chew and a good way to add Omega-3 to your daily diet.
Artic Salmon Oil (baby)                                                                                                                                                                                                              
50ml
Salmon Oil for baby is helpful to the rapid improvement of the baby's intelligence, promote the development of the baby's brain and nervous system, and make the baby more intelligent.   
Salmon Oil D3 
90 capsules
Salmon oil D3 is most abundant in Marine fish, and its physiological function is to promote intestinal calcium absorption, induce bone calcium scaly sedimentation and prevent rickets.
Salmon Oil K2
90 capsules
Salmon oil K2 can an treat vitamin K deficiency hemorrhaemia, promote the formation of prothrombin, accelerate blood clotting, and maintain normal clotting time.             
Artic Salmon Oil (cooking)                                                                                                                                                                      
300 ml
Atlantic salmon from Arctic waters of Norway, extracted into fish oil by enzymatic hydrolysis within 40 minutes after harvesting.It can be used in grills, stir-fries, salads, hot POTS, and supplements with natural omega-3's and a variety of daily nutrients.